Missouri Community College Association hosts successful annual convention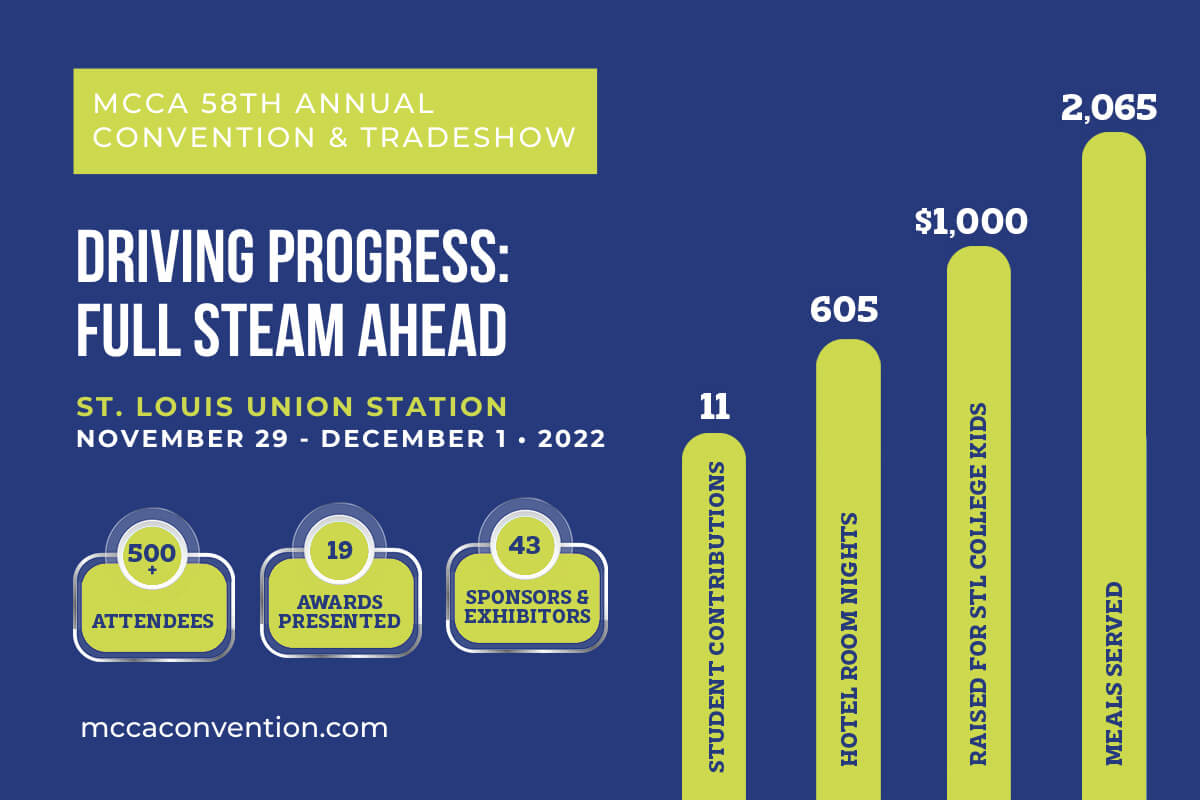 (Jefferson City, Mo., January 17, 2023) - Over the past three years, higher education institutions have faced unprecedented challenges throughout the state and the nation. However, as educational, societal and economic needs evolve, endless growth opportunities will exist. Last November, the Missouri Community College Association (MCCA) invited community college and workforce development professionals to join them in St. Louis, Mo., for their 58th annual Convention and Tradeshow as they work to advance Missouri community colleges.
The convention attracted more than 500 attendees, 43 sponsors and exhibitors and featured more than 60 breakout sessions. In addition, over $1,000 was raised during the silent auction for STL College Kids, a children's savings account program where students are provided with access to safe, affordable financial resources and tools to help them reach their future college and career goals.
19 awards were presented throughout the convention weekend, including:
Excellence in Teaching Award
LaRhonda L. Wilson, St. Louis Community College
Lisa Ebert, Jefferson College
Administrative Professional Leadership Award
Raymond Wade, Ozarks Technical Community College
Alice Whalen, East Central College
Classified Staff Achievement Award
Linda Basich, St. Louis Community College
Rebecca Dennison, Crowder College
Outstanding Adjunct Faculty Award
Christine Mathews, St. Charles Community College
Sheri Mitchell, Three Rivers College
MCCA Innovation Award
Tatia Shelton and Dave Johnson, Metropolitan Community College
Michelle McCall, Moberly Area Community College; Dru Nash, Columbia Public Schools
Award of Distinction
Emerson, Ozarks Technical Community College
Russell and Julie Childers, State Fair Community College
Distinguished Alumni Award
Dr. Eric Park, East Central College
Patrolman Lane Burns, Mineral Area College
Corporal Garrett Worley, Mineral Area College
Phillip Hoffman, North Central Missouri College
Marilyn Bush, St. Louis Community College
Distinguished Business & Industry Award
Mercy Hospital Jefferson, Jefferson College
Don Winders, Temp-Con Inc.; Metropolitan Community College
Trustee Leadership
Honorable James Cooksey, Moberly Area Community College
For more information about MCCA and future events, visit https://www.missouricolleges.org/.
###
About MCCA
Missouri Community College Association (MCCA) represents Missouri's 12 community colleges and thousands of faculty, staff, students, and administrators. MCCA provides services to its member institutions in four main areas – advocacy, education, information, and networking.