SkillUP engages SNAP (Supplemental Nutritional Assistance Program) recipients in education and training to pursue long-term employment in a career pathway in demand and provide good wages.
Seven of Missouri's community and technical colleges participate in this program to provide education and training to SNAP participants. Each college has a range of programs available to participants and will guide them in choosing a pathway based on interviews and testing.
The SkillUP grant is administered by the Missouri Department of Social Services, Family Support Division and funded through the United States Department of Agriculture (USDA). The Missouri Community College Association acts as the program administrator for Missouri's 9 community and technical colleges.​
The SkillUP program can help participants:
Learn needed skills through workshops and classes
Pay for short-term training and certifications
Pay for some daycare, work, or training costs
Update or create resumes to showcase skills to employers
Connect with employers

​A potential participant showed interest in ECC's Microsoft Office Suite program. Upon completion of the assessment, it was clear this participant had the desire to succeed but there were barriers holding her back from success. She was enrolled in the program and a significant amount of time was spent identifying resources that could help her and address some severe test anxiety issues. This participant was also in a domestic violence situation, so a local counselor intervened to assist her in gaining the skills and confidence needed to remove herself from the situation. We worked with her to build a resume so she could find a job that supported her and her children. The participant completed one certification and decided to enroll in college full time. She is now working on an Associate's Degree in business.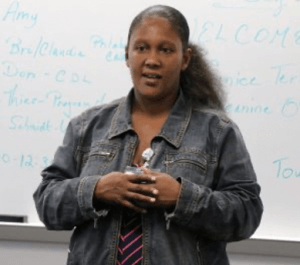 Amy Mattingly's plans are simple. Keep fighting and keep moving forward.
She says it was the SkillUP program offered through Metropolitan Community College that helped give her momentum.
Mattingly, 36, is an overcomer. She says she has survived physical and sexual abuse. She lost both of her parents and is raising three children on her own. She was nearing the end of her rope and knew something had to change.
"Find me anything," she told a social worker. "I can't stay where I'm at. I don't know what to do. Somebody needs to help me. I need to fight."
And the social worker put her in touch with the SkillUP program.
SkillUP educates and trains recipients of SNAP (Supplemental Nutritional Assistance Program), sometimes referred to as food stamps. The goal of the free SkillUP program is to teach participants the skills to find a long-term job that pays good wages.
All of Missouri's 13 community and technical colleges are part of the program. The U.S. Department of Agriculture funds a grant for SkillUP and the Missouri Department of Social Services oversees it.
Mattingly hopes to inspire others to make life-changing choices.
At MCC, the noncredit workforce program trains future certified nurse assistants, pharmacy technicians, phlebotomy technicians and commercial truck drivers, among other fields. Coursework takes a year or less.
Mattingly became a certified nurse assistant in March. She says it was a hard road that brought her to SkillUP, but she didn't want to give up on herself.
"No matter what you go through, good or bad . . . break those walls down. Have fun living your life no matter how hard it gets," she says.
Mattingly says she depended on SkillUP's navigators at MCC.
Navigators Valencia Broadus, Sandy Snook and Eunice Terry are both cheerleaders and guides. They direct and help students through the program. They provide a listening ear and assist the students in finding the help and support they need while they are in class. They also keep in touch, making sure participants find work after graduation.
"The navigator role is to do whatever they need to do to get students to the right place," says Jeanne Schmidt, MCC continuing education workforce coordinator. She says they provide the human touch students need to be successful in the program.
SkillUP "provides them hope and a future where they may have thought they didn't have one," Schmidt says.
Mattingly now spreads that message of hope to others entering the SkillUP program. She shares her story during orientation. "It's never too late," she says. "If I can do it, they can do it."
During a recent orientation, Mattingly made a point to address each participant in the room, giving them a positive message filled with hope.
"If you need help, ask for help," she told them. "And don't stop until you find the right people."
Schmidt describes Mattingly as "super enthusiastic" and "amazing": "She took advantage of the opportunity."
Schmidt is working to help others find the success Mattingly found. She says the goal is to have 70 people complete the SkillUP program every year.
The program is funded through September, but Schmidt expects more money to be added to keep it running through summer and fall of 2020.
SNAP recipients interested in receiving SkillUP training can apply any time. Call 816.604.1000. "Some people make a really quick life change," Schmidt says.
As far as her own life changes, Mattingly says she's not through. She plans to become a medical technician. She wants to be an inspiration for her children and others. No matter what, she says, "I'll keep going."

​Jonathan was referred to SkillUP by MTC, the truck driver training program contractor at Mineral Area College. Jonathan had previously worked at a local manufacturing company – working swing shifts, with average wages. His goal was to increase his income to better support his family by becoming a Team Driver doing cross-country hauling. He completed the program and obtained his CDL license, with two job offers upon completion. He is scheduled to begin his new employment with Gilster – Mary Lee based out of Perryville, MO. He will earn $450/week for the first 4 weeks while completing their new hire program. He will then earn $0.28/mile as a Team Driver.
I found myself with only retail sales skills in an economy that has changed and made it harder to make money with that skillset. I realized I needed new career skills since I wasn't making ends meet and needed constant help in the form of government aid such as food stamps.  I didn't have any money saved to pay for an education program, previously I had medical issues that were caused by cancer and depleted all my funds.  Then I found out about the SkillUp program from a family member who saw a news report about it on television.
I was skeptical about it when calling for information, but the receptionist was very helpful and let me know that these classes would train for jobs that were in high demand. I looked over what was offered and decided on the CMA course due to the diversity of the skillset.  It was amazing that I qualified for no charge to take this.  I can't thank those who are responsible for that fact enough.
When I began class I was worried about my ability to learn this very new subject. Again I had only been in retail sales environments and it was really all I knew.  The instructor was very knowledgeable in the medical field which helped greatly with my success in the class.  It started with medical terminology and then built from there.  Online tools and hands on experience helped to teach and retain the information as well.  When I went in I expected to learn a new career but I really never expected to find a job that I enjoy doing this much.
​At the end of the course, two hundred hours in a clinic are required.  In my first two weeks of this, I knew without a doubt this was the career for me.  At the end of the hours, I applied and was immediately hired into internal medicine at Ferrell Duncan clinic.  I enjoy getting to help people now on a daily basis. I feel I have become respected once again by my friends and family.  I have a steady paycheck and job security and no longer have to ask for government aid or help from family members to get by.  This program made a huge difference in my life and I am very thankful I got to be a part of it.
​As a recently single mom of 4, I was struggling to find help for my family. I happened to see on the news that OTC was offering this program to help further the education of those that need it. They offered a variety of courses but I chose to go through the CMA program because I knew I'd learn a variety of skills. The class was very hands on and we learned so many new things that we can actually use in the real world. I learned about working on the administrative side of the clinic, along with insurance and how to deal with upset patients, my clinical duties and how to educate patients among other things. During my clinical hours, I was placed in several different departments and got to experience so much that I never could have without the Skill Up program. Within a year I was done with classes, clinicals, and have gotten hired on at a great medical office. I love what I do now and without this program I don't think I'd be able to work with the prices of childcare. This has really been the hand up that I was looking for.

Dylan was on SNAP benefits and Greg was homeless and in 4 weeks these students completed State Fair Community College Commercial Driving Academy training program achieving their Class A CDL license and getting a job on the same day.  They are both employed making excellent money.
Greg is now working for a trucking company in Boonville.  Greg entered the program homeless.  On the day he got his CDL license, he had a job with Potter Transport in Boonville and his grossing $1400 per week.
Dylan got a job with Stanley Black & Decker and within three weeks of being with SBD he changed their safety protocol and record-keeping with their trucks.  Within 7 weeks of beginning the CDL program, he has become an income earner, provider of health insurance for his two-year old son, a taxpayer and is improving truck safety on the public traveled highways.


When Ms. Willard enrolled in the SkillUP Program, she was working part-time and making slightly above minimum wage.  She expressed interest in an Office Administrative Assistant Program.  It required less than $1000 in SkillUP funds to cover the cost of the class, including textbooks and materials for the course.  Ms. Willard did not have access to a computer or internet, and her SkillUP case manager arranged for her to use equipment at a location near her home.
Upon completion of the program, Ms. Willard earned a certificate and a promotion to a new job within her organization.
This program is supported by the Administration for Children and Families (ACF) of the United States (U.S.) Department of Health and Human Services (HHS) as part of a financial assistance award totaling $1,211,000 with 69 percentage funded by ACF/HHS and 31 percentage funded by non-federal government source(s). The contents are those of the author(s) and do not necessarily represent the official views of, nor an endorsement, by ACF/HHS, or the U.S. Government. For more information, please visit the ACF website, Administrative and National Policy Requirements.